Prom
The pinnacle of the high school experience for many young teenagers would be Prom night. If you are a parent involved in the planning of your teens prom celebration, you'll want to be sure they have the safest and coolest transportation available. There is nothing safer or more stylish than a party bus!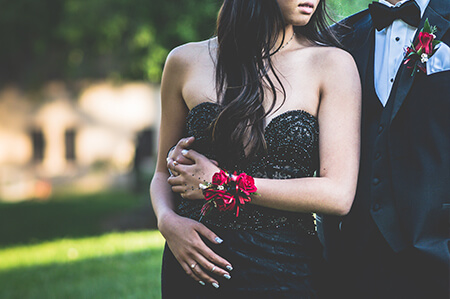 Your teen will love our Party Bus!
If ever there was a win/win scenario for you and your teen, getting them a party bus limousine for prom is one way to score one for your teen and for you. You'll know that they'll be safe in our large comfortable party bus, and they'll think you're the coolest parent around for arranging such "hot" wheels for them to be transported in. Everything a teen loves is here... high tech flat screen TV's with DVD players, and booming sound systems for them to plug their iPod/MP3 player into.
Know that your teens are in good hands with our chauffeurs
When we come to pick up your teen's prom group, you'll be able to go into the party bus and stock the coolers with their favorite drinks (non alcoholic of course) and you won't have to worry about them getting their hands on alcoholic beverages. Undoubtedly, there will be kids at their school who will manage to find some alcohol on this night, you won't have to worry about them drinking and then getting behind the wheel... and all the inherent risks involved in that scenario. Our chauffeurs are professional and go through a rigorous screening which insures that we get the best drivers out there. Not to mention we carry the highest amount of insurance possible, so your teen's safety is complete.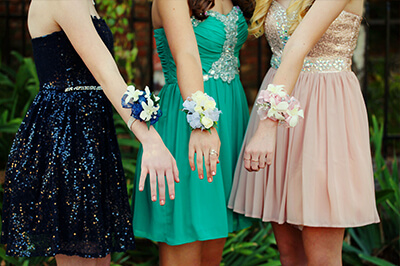 It's simple to book a Party Bus for Detroit Proms!
All it takes is a quick phone call, and then you're all set! Our number is 248-630-5605
Below is a list of most of the schools we can provide service to. If you don't see your school on this list, give us a call to see if we service your area!
Allen Park

Allen Park High School
Cabrini High School

Ann Arbor

Ann Arbor Huron High School
Ann Arbor Pioneer High School
Community High School
Father Gabriel Richard High School
Stone High School

Auburn Hills

Avondale High School

Belleville

Belleville High School

Berkley

Berkley High School

Berkley

Wylie E. Groves High School

Birmingham

Groves High School
Roeper School
Seaholm High School

Bloomfield Hills

Academy of the Sacred Heart
Alternative High School
Andover High School
Cranbrook Upper School
International Academy
Lahser High School
Marian High School
Model High School

Brighton

Brighton High School

Brownstown Twp.

Woodhaven High School

Bruce Township

Romeo High School

Canton

Canton High School

Canton Township

Plymouth Christian Academy
Plymouth High School
Salem High School

Center Line

Center Line High School

Clarkston

Clarkston High School

Clawson

Clawson High School

Clinton Township

Chippewa Valley High School
Clintondale High School
Neil E. Reid High School

Dearborn

Dearborn High School
Edsel Ford High School
Fordson High School

Dearborn Heights

Annapolis High School
Crestwood High School
Robichaud Senior High School

Detroit

Barsamian Preparatory Center
Boykin Continuing Ed. Center
Cass Technical High School
Central High School
Chadsey High School
Charles C. Vincent Continuing Education Center
Cody High School
Communication & Media Arts HS
Cooley High School
Crockett High School
Crosman Alternative High School
Denby High School
Detroit City High School
Detroit High School for Technology
Detroit International Academy
Davis Aerospace High School
Detroit School of Arts
Douglass Academy
Ferguson Academy for Young Women
Finney High School
Ford High School
Kettering High School
King High School
Martin Luther King High School
Mumford High School
Northwestern High School
Osborn High School
Pershing High School
Philip J. Murray-Wright High School
Renaissance High School
Southeastern High School
Thomas M. Cooley High School
Trombly Alternative High School
University of Detroit Jesuit High School & Academy
Western International High School
West Side Academy Alt. Ed

Dexter

Dexter High Schoo

Eastpointe

East Detroit High School

Ecorse

Ecorse Community High School

Farmington

Farmington High School

Farmington Hills

Harrison High School
North Farmington High School

Ferndale

Ferndale High School

Flat Rock

Flat Rock High School

Fraser

Fraser High School

Garden City

Garden City High School

Grosse Ile

Grosse Ile High School

Grosse Pointe

Grosse Pointe South High School

Grosse Pointe Woods

Grosse Pointe North High School

Hamtramck

Hamtramck High School

Harrison Twp.

L'Anse Creuse High School

Harper Woods

Harper Woods High School

Hartland

Hartland High School

Hazel Park

Hazel Park High School

Howell

Howell High School

Lake Orion

Lake Orion Community High School
Lathrup Village

Southfield-Lathrup High School

Lincoln Park

Lincoln Park High School

Livonia

Adlai E. Stevenson High School
Churchill High School
Clarenceville High School
Franklin High School
Winston Churchill High School

Macomb Twp.

Dakota High School
L'Anse Creuse North High School

Madison Heights

Lamphere High School
Madison High School

Melvindale

Melvindale High School

Milford

Milford High School

Monroe

Saint Mary Catholic Central High School

Mt Clemens

Mount Clemens High School

Northville

Northville High School

Novi

Novi High School

Oak Park

Oak Park High School

Pinckney

Pinckney High School

Pontiac

Pontiac Central High School
Pontiac Northern High School

Redford Township

Redford Union High School
Thurstan High School
Catholic Central High School

River Rouge

River Rouge High School

Riverview

Riverview High School

Rochester

Rochester Adams High School

Rochester Hills

Adams High School
Alternative Center for Education
Rochester High School
Stoney Creek High School

Romulus

Romulus High School

Roseville

Roseville High School

Royal Oak

Dondero High School
Kimball High School
Royal Oak High School
Shrine Catholic High School

Saline

Saline High School

Shelby Twp.

Eisenhower High School
Utica Center for Applied Learning

Southfield

Southfield High School

Southgate

Anderson High School

South Lyon

South Lyon East High School
South Lyon High School

St. Clair Shores

Lake Shore High School
Lakeview High School
South Lake High School
South Lake High School Band Boosters

Sterling Heights

Career Preparation Center
Henry Ford II High School
Sterling Heights High School
Stevenson High School
Utica Center for Mathematics, Science & Technology

Taylor

John F. Kennedy High School
Truman High School

Trenton

Trenton High School
Athens High School
Niles Community High School
Troy Athens High School
Troy High School

Utica

Utica High School

Walled Lake

Walled Lake Central High School
Walled Lake Western High School

Warren

Cousino High School
De La Salle Collegiate High School
Enterprise High School
Fitzgerald High School
Lincoln High School
Macomb Mathematics Science Technology Center
Warren Consolidated School of Performing Arts
Warren Mott High School
Warren Woods Tower High School

Wayne

Wayne Memorial High School

Waterford

Waterford Kettering High School
Waterford Mott High School

West Bloomfield

Jewish Academy of Metropolitan Detroit
Laker Academy
West Bloomfield High School Twp.

Westland

John Glenn High School
William D. Ford Career-Technical Center

White Lake

Lakeland High School

Whitmore Lake

Whitmore Lake High School

Wyandotte

Theodore Roosevelt High School

Ypsilanti

Willow Run High School
Ypsilanti High School